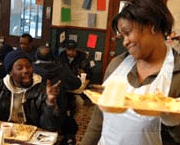 Encourage your faith community or service organization to officially endorse the plan to end homelessness.
Find out about the essential role of political advocacy in ending homelessness and how you can get involved.
Find out how faith communities and service organizations can help end homelessness.
Find out who is looking for volunteers or where to donate towards ending homelessness.